When choosing outdoor furniture, most of us primarily focus on the same stuff we look for in inside furniture – style, durability, comfort and of course, price. However, another important thing to consider when choosing an outdoor dining set is the material. Unlike indoor tables and chairs, patio furniture has to endure a lot of environmental factors.
Constant exposure to high and low temperatures, sun, rain, snow and wind can greatly affect the life expectancy and the overall look of your furniture – so you can't overlook the material when shopping for an outdoor dining set. For that reason, we've decided to explore some of the best materials for patio furniture, so you can make the best decision for yourself once the shopping time comes.
Metal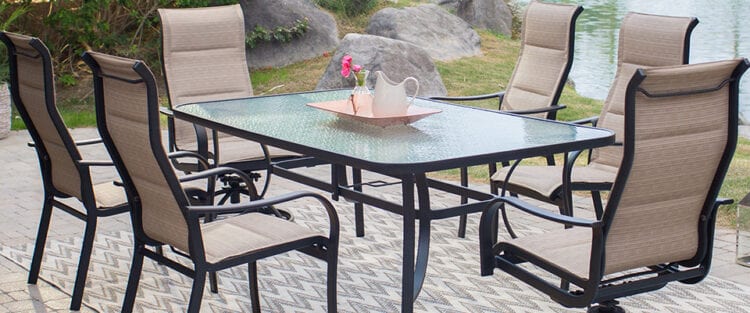 It goes without question – metal is by far the strongest and most durable material of your exterior furniture. Because of how strong metal is, it's very easy for manufacturers to shape in any way they want – far more complex than they would've been able with any other material, so if you're looking for some very stylish options for your dining set – metal could be the choice for you.
Also, metal can be combined with some other materials, for either design or function – so it's not uncommon to see a wooden table with metal legs for instance. Also, because of its strength, metal furniture can be made in one piece, without any bolts or screws, meaning it would be far more durable. You can find additional information and products at https://www.gardenfurniture.co.uk.
However, the obvious drawback of metal is the fact that it gets really hot to the touch in direct sunlight. So, unless it's a mixture of two, we can't really see anyone dining at a metal table on a hot sunny day. Other than that, metal is a solid option for outdoor dining set as far as we're concerned.
Stainless Steel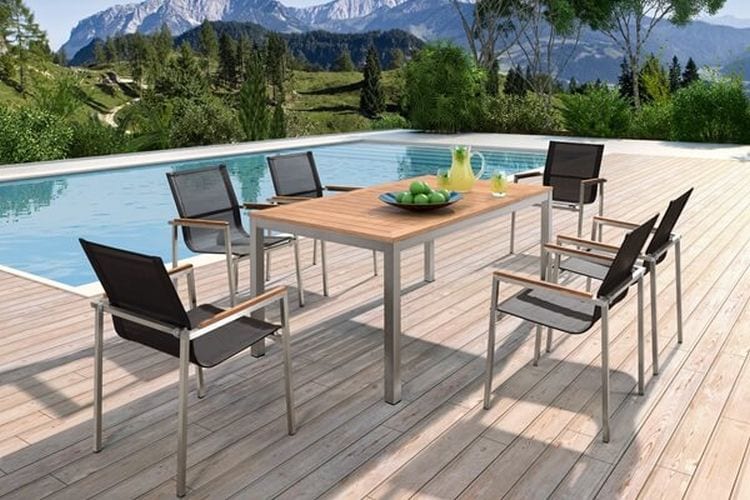 Another material from the metal family, only this time even more durable and strong. Stainless steel is often used for large, heavy-load bearing tables or sofas, which makes it ideal for large families or people who like to throw patio parties.
Stainless steel is often deemed immune to corrosion because of its composition, so if you live in really rainy and humid areas – that could be a bonus when you're shopping for a dining set. However, like any other metal – it gets hot in the sun and that could be an issue.
Another thing about stainless steel furniture is that it's really heavy and that's something to consider because we tend to move our patio furniture somewhat often.
Other than that, stainless steel is quite a good pick for outdoors. It looks modern, it's durable and easy to clean – what else can you ask for.
Resin
Long gone are the days of equipping your patio with cheap plastic table and chairs. Resin is rapidly becoming one of the most commonly used materials for outdoor seating. There have been some major improvements in manufacturing processes of resin and plastic furniture, which made possible for chairs and tables to assume new shapes and dimensions, as you can see for yourself if you visit here. Be warned though. You might not believe in love at first sight – but you may just fall in love with an outdoor dining table set.
Other than being able to take on new shapes and sizes, resin furniture is also very durable, weather-resistant, remarkably easy to clean and very lightweight. However, some might think being lightweight is a disadvantage if you live in a windy area, but unless there are some storm-level winds, we don't think there's anything to be worried about.
Wood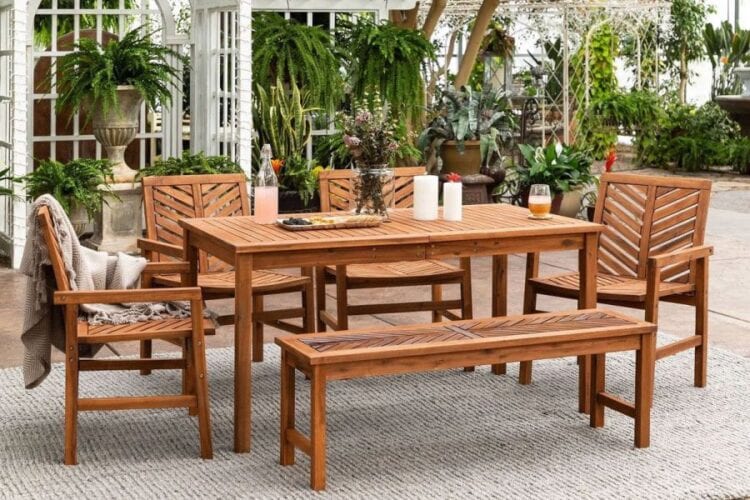 Wood has been a go-to material for both indoor and outdoor dining sets for quite some time and we don't see that changing any time soon. There's something timeless about the way wood looks and feels. Wood is an easy-to-work-with material – so you can expect some cool designs, as well as a sturdy structure.
Obviously, not every wood is the same – there's an obvious difference between oak and cedar. So, you have to consider the type of wood when choosing a patio set. You wouldn't want to choose any softwoods like pine or cedar, as they're pretty susceptible to environmental damage and require a lot of maintenance if you want them around for more than a season or two.
Hardwood, on the other hand, is a great choice. The density of the hardwood makes it perfect for any weather condition and you can expect your hardwood dining set to last for ages, even with minimal maintenance. Bugs can't harm hardwood, so that's something you don't need to worry about. Also, it doesn't get too hot in the sun, so it's perfect for those areas with long, hot, sunny days during the summer.
Hardwood is usually more expensive than softwood, but that's understandable given the difference in quality. However, there's a difference in different types of hardwoods as well.
Teak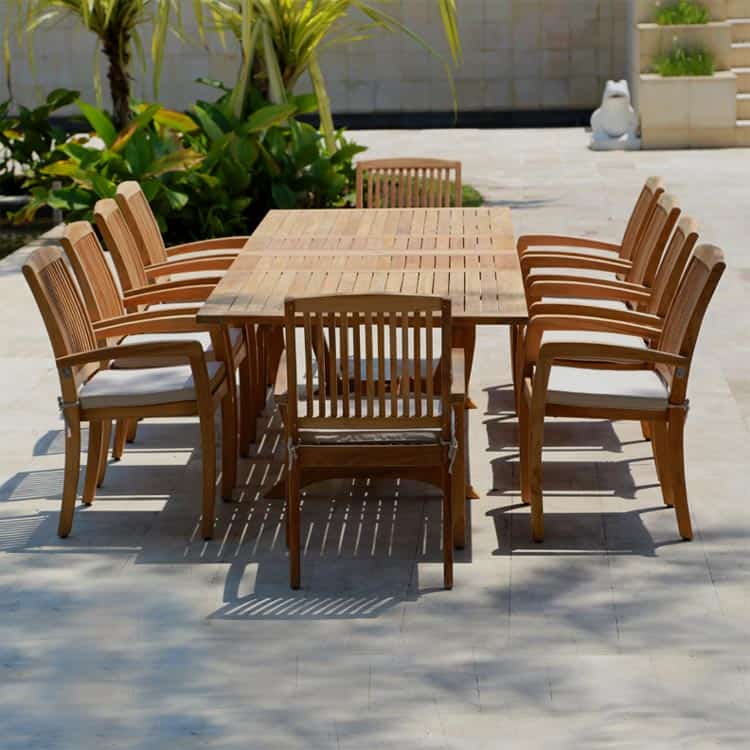 Teak is the most popular hardwood on the market. In recent year the demand for it has greatly risen and with it the price. However, the hefty price tag is justified by a number of great characteristics of this hardwood. It's quite dense and strong – it doesn't bend, warp or crack, unlike some other kinds of wood. Water damage does not exist in the same sentence as teak.
In addition to all that, teak is very rich in natural oils which make it incredibly well resistant and downright impervious to rotting and insects. Being dense as it is, it's also very low-maintenance. All it requires is occasional oiling if you wish to retain the colour, if not; all it takes is a little cleaning from time to time.
When you take all of that into account, we believe it's safe to say that teak is arguably the greatest material for an outdoor dining set.
In the end, it all comes down to personal taste – your wants and needs. You can't go wrong with any of these. All of the materials we've mentioned in this article are great options for your patio or garden – it's only a matter of preference at this point.