The kitchen is the heart of every home. It is where delicious meals are cooked, fun conversations are had, and memories are made.
If you want to give your kitchen an extra boost in style and appeal, a glass splashback can be just what you need. But what should you consider when choosing the right color and texture for your glass splashback? This article will explore all the options available to ensure that you make the best decision for your home.
From subtle hues to bold designs, there's something perfect out there if you know where to look!
Consider Your Existing Decor
When it comes to picking the right color and texture for your glass splashback, it is important to consider the existing decor of your kitchen. Look at other elements in the room such as countertops, cabinets, flooring, and appliances, then match those colors with a suitable splashback hue or pattern.
Take into account lighting conditions too; certain shades may look different depending on natural light versus artificial light. To add further depth and interest to your space, you can also opt for a colored glass that has been sandblasted or etched – this will create subtle variations that will catch both natural and artificial light.
Consider how these options fit within the context of your décor before making any final decisions!
Evaluate Your Space
When it comes to choosing the right color and texture for your glass splashback, evaluating your space is key. Careful consideration of the room's existing features – such as furniture, wallpaper, or flooring – will help you decide on a look that enhances your interior design scheme. Consider the size of the area where you plan to install a splashback: does it need something bold and eye-catching or would more subtle tones be better? Additionally, take into account whether natural light floods through the window during certain times of day: this can impact how colors appear in different conditions.
Ultimately, creating an assessment of how much space you have available and what atmosphere you wish to create will guide your decision-making process when selecting textures and colors for your glass splashback.
Think About the Practicalities of Cleaning and Maintenance
When it comes to choosing the right color and texture for your glass splashback, practicalities should not be overlooked. Cleaning and maintenance are essential factors that need to be taken into account when selecting a material for your space.
For example, some materials may require special cleaning products or techniques to maintain their finish and prevent wear and tear from daily use. Moreover, you'll also want to make sure you have all of the necessary tools on hand – such as scrapers, squeegees, or sponges – so you can keep your glass splashback looking its best without any potential damage occurring.
In addition, if possible choose a material that is easy to repair in case of accidental breakage – this could save money down the line! Therefore, bear these considerations in mind when selecting a color and texture for your glass splashback; ensuring both aesthetic appeal and durability at once will maximize long-term satisfaction with your design choice.
Sample Different Colors and Textures Before Making a Decision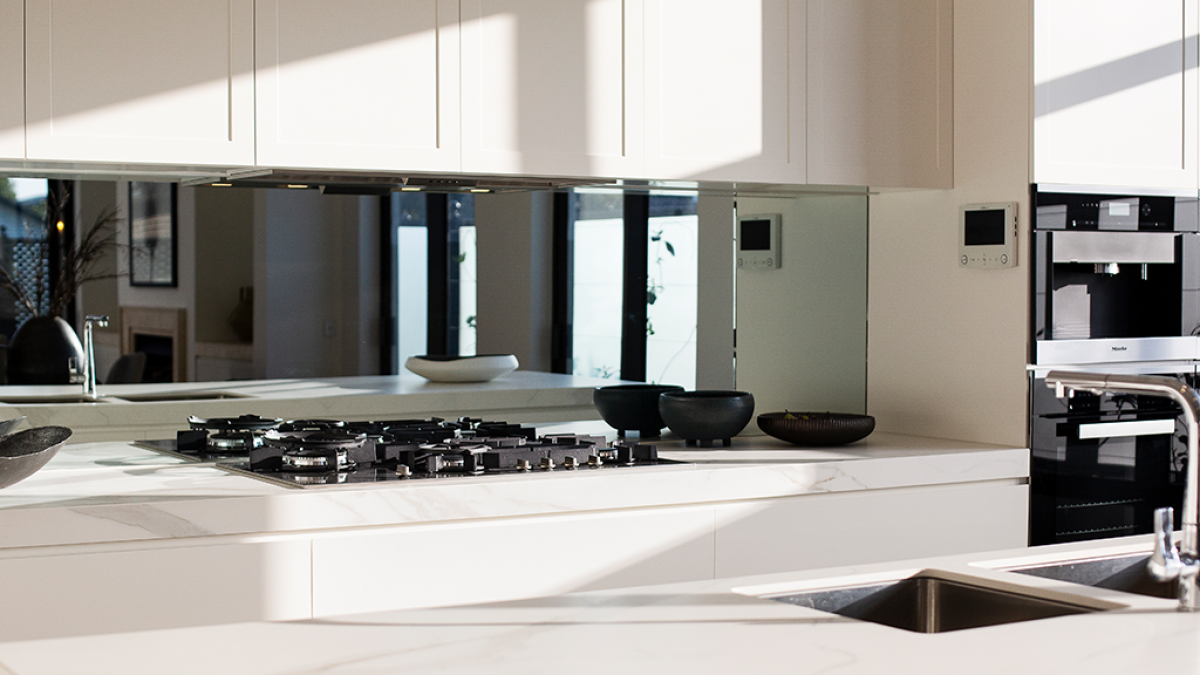 When you're considering a glass splashback for your kitchen, it is important to take the time to sample different colors and textures. By getting an idea of how they will look in your space, you can make a more informed decision about which one best suits your needs. From glossy surfaces that reflect light beautifully to matte finishes that are perfect for hiding imperfections or bringing subtle texture into the room – there are so many options available! Additionally, consider whether you want bold primary colors or softer pastels; earth tones like taupe and browns; or even some translucent hues such as aqua blue and green.
Experimenting with these various color and texture combinations will ensure that when you finally install your glass splashback, it looks just right in its new home.
Conclusion
Adding a glass splashback to your kitchen is an excellent way to make it look modern and stylish. It provides the perfect backdrop for any style of cooking space, allowing you to choose from a range of colors and textures that will compliment your décor.
The choice of color and texture are important considerations when selecting the right glass splashbacks for your home – from bold blues, greens, reds oranges through to subtle shades like grey or cream – there's something suitable for everyone. With its easy maintenance, scratch-resistant surface, and hygienic qualities, a glass splashback is sure to be the perfect addition to any kitchen design.