Silk sarees have been part of Tamil's history for many centuries. In the past, you could see almost every woman in India wearing some type of saree. But, today, this kind of garment is mostly worn for special occasions, ceremonies, and most commonly for weddings. The bride usually wears the most high-quality and colorful silk saree out of all the people at the gathering. Just 15 or 20 years ago, Kanchipuram silk sarees started appearing on the market everywhere in Tamil, especially in the Kanchipuram region (hence the name).
Since you're here reading this article, you are probably going to get married soon which means that you will need this type of saree for yourself or for your bride. Unfortunately, finding the right sari can be a bit difficult since there are thousands of different variations on the market. Wherever you search, it seems like finding the perfect one is impossible. One has high-quality silk while bearing the wrong colors and others have the right colors but are made out of low-quality silk.
Fortunately for you, we have made this list of the top 4 bridal kanchipuram sarees which I believe will help you make the right decision.
Gaurang Shah – Organza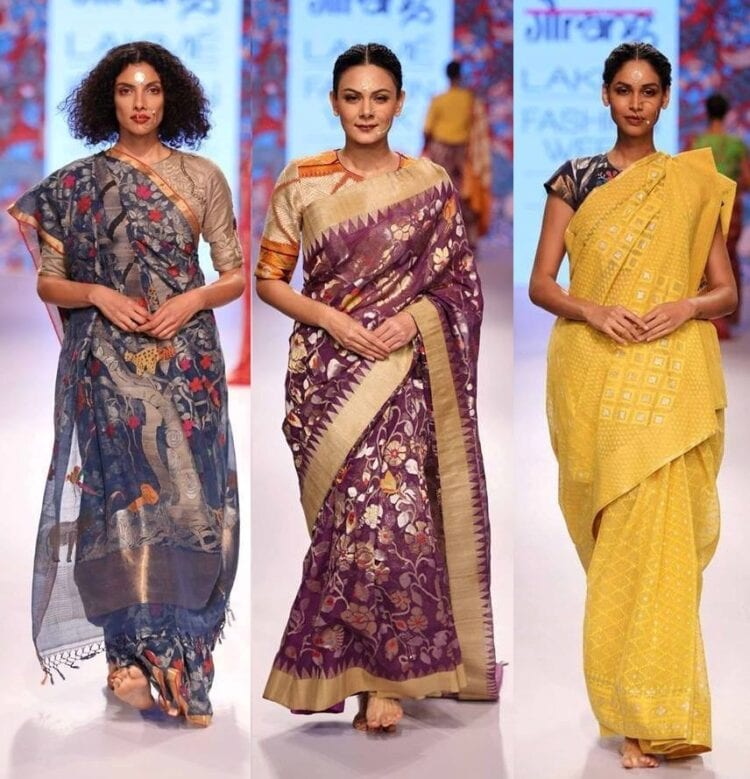 Gaurang Shah might be one of the most influential and popular names in the industry. Anyone that has bought a saree will be familiar with this name. It is a brand that always delivers the highest possible quality of product and the design is always impeccable.
The great thing about Gaurang Shah is the fact that every single piece of product they make is handwoven. I know, after seeing the designs on their sarees, you would think that they are working with machines because of how precise everything is. But, it is true, everything is handwoven in their product line up. Every single piece of clothing that you will find in their shop or on their website is going to have a unique design that you won't be able to find anywhere else. Even rip off brands do not manage to replicate what Gaurang Shah creates.
So, if you want to leave a unique impression on your wedding, I recommend that you consider Gaurang Shah's Organza line-up. You won't go wrong with this decision, believe me. After your wedding, everyone will be looking to buy that same kind of Kanchipuram saree.
Raw Mango – (Between)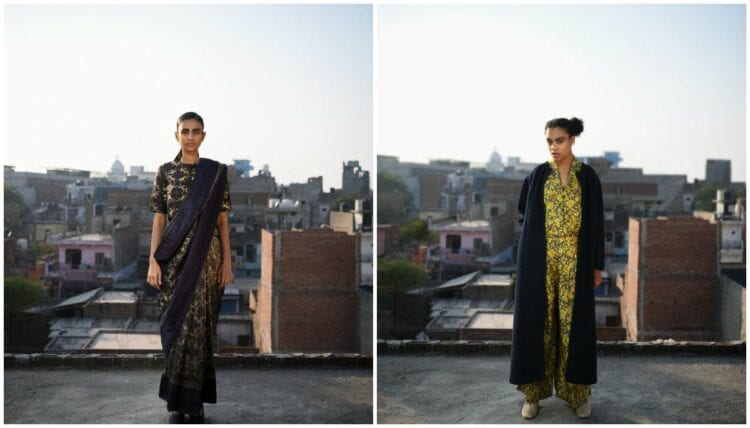 Raw mango is a company that tries to express Indian culture and lifestyle through their clothing. Achieving this is very difficult, but Raw Mango has definitely succeeded to do that. Its first collection release was in 2008 which featured strong colors that were explained through complicated philosophies. Since then, Raw Mango tries as best as possible to stay on the same path as the one they started following in 2008.
Assuming that you are in need of a bridal saree, you should definitely check out what Raw Mango has to offer. I personally love the look of the (Between) collection which you can find on their website. It may not be the most conventional wedding style, but it is definitely unique which is something that every bride wants. The motivation for this collection was the Neelakurinji flower or more commonly referred to as the Kurinji flower.
Before you make the purchase, I should point out that you should never put this saree in the washing machine or even washing it by hand. The water can cause serious damage to the silk and can make it rough on touch, so you should try dry cleaning only. Also, when drying it, make sure you do not put it in direct sunlight because that may cause discoloration and other problems.
Kanchipuram gold and silver bridal saree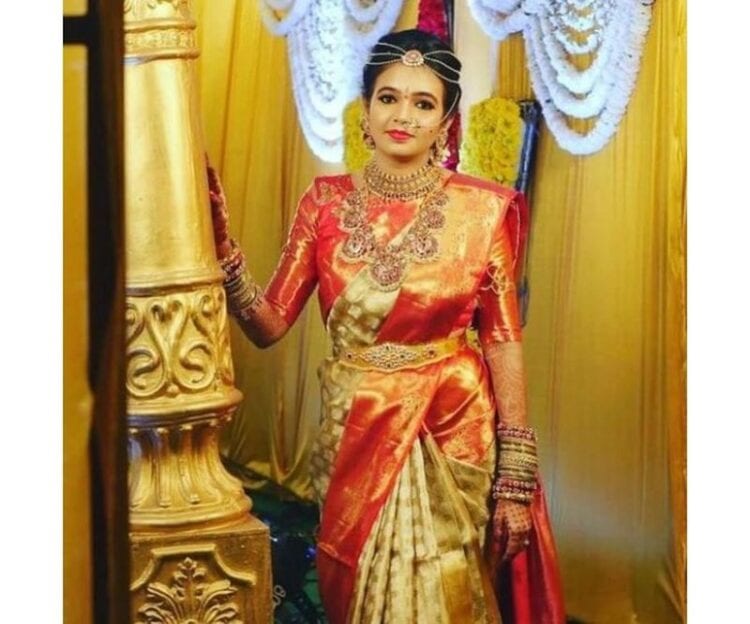 Now this one is something a bit more different than any of the other sarees we mentioned in this article. Just by looking at a couple of photos of this piece of clothing, you will understand why it is so special and different. It is important to note that this is also handwoven and it is made out of Kanchipuram Pure Silk and for further explanation on how Kanchipuram sarees are made, check out kanjivaramsilks.com
The reason why it is so unique is that it also has pieces of real gold and silver all over the silk. Both the silver and the gold weight about 1 gram total which is probably why it is so expensive. However, considering just how good this full-body saree looks, I think the price can be justified, especially because it has gold in it.
It costs around 50,000 rupees with just 1 g of silver and gold, but if you want to add more gold and get to 3 grams then it will cost you about 90,000 rupees. Whether this increase in price is something that you can justify, it is up to you.
Radha Krishna Vastranidhi – Kanjeevarams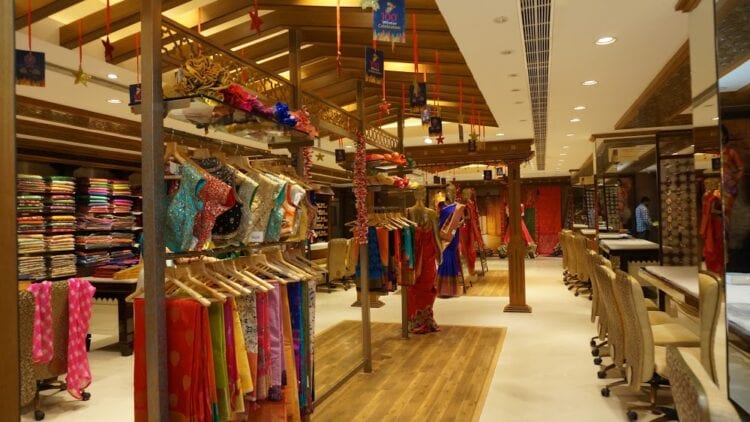 Radha Krishna Vastranidhi has been around for more than 20 years which is why their knowledge for handcrafted clothing for women with fine silk is so advanced. This company claims that their weavers have a lot of experience and that they use techniques as old as 100 years or maybe even more. It seems like Radha Krishna Vastranidhi believes that the traditional style of weaving is better than anything modern.
So, if you're looking for a traditional style of weaving and a more traditional book, I recommend checking out Radha Krishna Vastranidhi and their collection named Kanjeevarams. This collection is filled with a mix of golden and wooden colors, unlike the others that we mentioned who prefer a more floral design.
With this type of golden design, you will leave all of your guests in awe. They will surely be asking where you got your saree after the ceremony. I think the Kanjeevarams collection deserves a place on this list. And yes, they do use Kanchipuram silk, don't worry.
All of these sarees that we mentioned in his article are simply beautiful and whichever of these you pick, I'm certain that you will look beautiful too.