Nowadays there is at least one TV in every household. It helps us get informed about the news, it keeps us distracted and it is a nice way to relax after a long day. With the streaming services that are available, we can watch our favorite shows and movies, without having to additionally pay for them or to download, buy or order them. The television is the focal point in every room and that is the place where the whole family gathers to spend a few nice hours together. That usually happens in the living room, so choosing the best TV for that room may be a little bit tricky.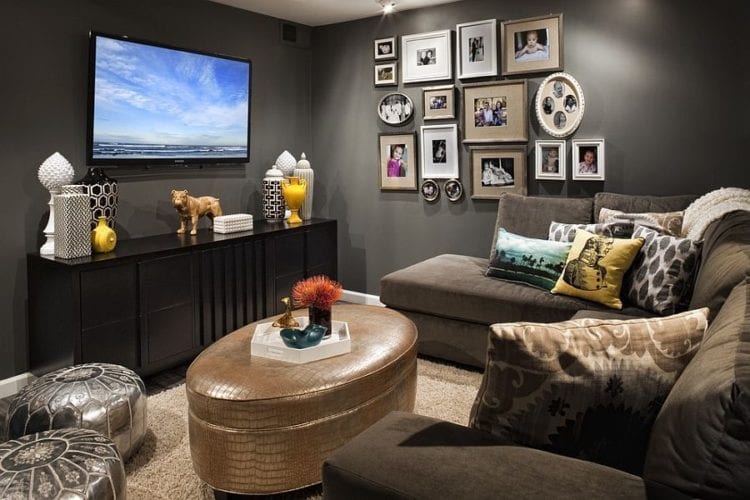 People who have large living rooms don't have a lot to worry about when it comes to the TV, but those of you who have small rooms, probably don't really know how to choose the right size television for their space. The best TV for your place depends on many different factors, and here we are going to try and help you choose the right one.
How to start
Everyone wants to get the biggest TV they can. We want that movie theater experience in our everyday lives and because of that, we tend to make expensive mistakes. Just because you can get a huge TV, does not mean that you should.
There are a lot of things you need to calculate before buying a new television and the size actually depends on the distance between the device and the sitting area. Experts suggest that if you choose units that are too big for your room, you won't be able to enjoy them fully, plus you may risk hurting your eyes in the long run.
Choosing the right size
There are several ways you can calculate the size of the unit you should get. One of the easiest ways is to divide the distance between the sitting area and the wall by 3. So, there are 10 feet between the sofa and the TV wall, you should convert to inches first and divide by 3. That means that the distance is 120 inches. 120 divided by 3 is 40. With this calculation, experts suggest that you should get a television that is about 40 inches.
TitusAlarm&CCTV suggests that the installation is as important as choosing the right size. If you don't install your television in the right way, you may end up with a unit that is not safe and that may get damaged by external conditions, or it may cause a risk to you and to your family. Professionals can help you install the unit in the right way, and place it in a way that will not hurt your posture or your eyes.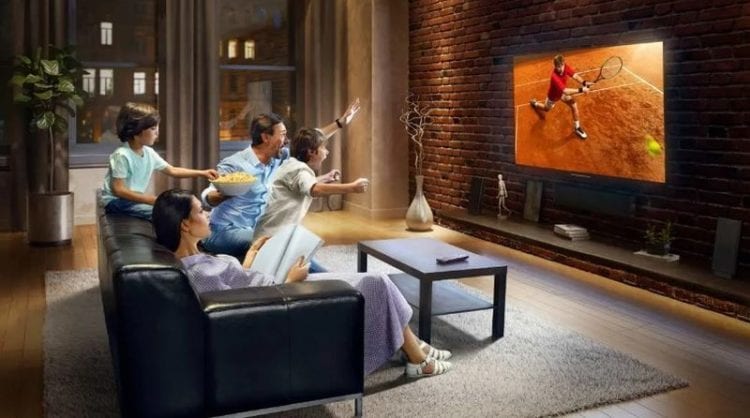 The TV should always be placed parallel to our eyes and you should also pay attention to the angle. It should not be placed to more than a 15 degrees angle when it is tilted down, and if you want to tilt it left or right, the angle should not be more than 40 degrees. This will protect not only your eyes but your posture as well. If you are not sitting straight and if you have to tilt your neck or sit in an uncomfortable position just to be able to watch TV, you may risk hurting your back. It is said that the most common cause of back and neck pain is the incorrect way of sitting in front of your television.
Another way to choose the right size is just to follow experts' advice and the calculations that are already given to us. If you want to buy a TV that is bigger than 60 inches, then the distance between the couch and the TV should be at least 10 feet. If you are planning on buying a medium-sized device that is between 35 and 50 inches, you should know that you will need to put it between 5 and 10 feet away from you. And when it comes to smaller TVs, that are about 30 inches or less, you can put it between 3 and 5 feet away from you.
How to choose the right TV?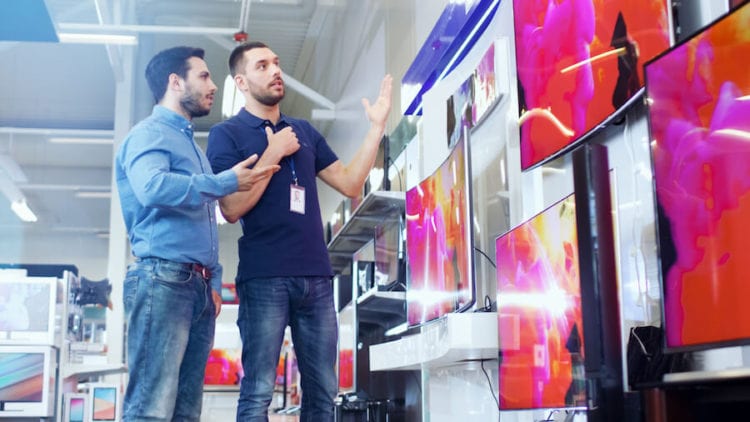 These days there are so many different brands available on the market, so even if you know the right size for your room, you may get confused about the brand you should get.
Think about the features you want the TV to have, if you want it to be smart, HD, 3D or anything else that might be of your interest. Depending on the features, look at the brands that offer that. Remember that you can find cheap things that offer all the features, but you usually get what you paid for. When the unit sounds too good to be true, it usually is.
If the TV is big, with smart features, HD and the price is way too low, you should stay away from it. Go for name brands when buying a television. You may need to spend more money, but you will end up with a device that will last for a lot of time. And if you have to choose between getting a bigger device with not as many features and a bit smaller one, choose the smaller one. At the end of the day, the option to have a smart TV and to be able to follow the stream services will be more important to you than a few extra inches.
What do you think is the most important when choosing a new television? Do you have a formula that you use when buying a TV for your small room? Remember that you need to protect your eyes, as well as the health of your children.
Always measure the space you have between the sitting area and the place where the TV will stand, and if you are not sure how big the television should be, then you can consult with the expert that works at the store. When placing the TV, you should put it at eye level while you are sitting down. If you notice that your neck is tilted in an uncomfortable position, then you should reposition the device as soon as you can.