The world we are living in is filled with stress and issues. People say it comes with age and responsibilities. Sometimes we feel like we cannot take it anymore and that's why we need to find a way to cope with the issues. Medication is said to be one of the ways to full relaxation and studies show that it is really helpful.
Did you know that one in every 13 people in the world suffers from anxiety? Did you also know that 1 in 4 people in the world has some type of mental health condition? These numbers are scary and they can lead to many serious diseases, including heart attack and stroke.
Some people like to work out when they feel stressed, spend time with friends or just spend the day alone in bed. However, we don't always have the time to do that. Because of that, we need a quick fix that will help us relax in a natural way.
Luckily, we can rely on technology to help us with it. There are so many relaxation and meditation apps that can help you meditate. Here we are going to talk about the benefits of the meditation and tech combination.
Calm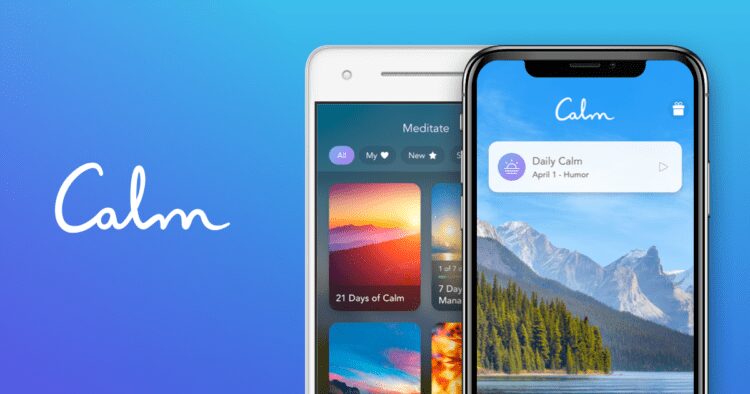 The name says it all! This application was made to calm your mind! The Calm app has been downloaded more than 50 million times and that should be reason enough.
The great thing about it is that you can choose which issues do you want to target. You can use the Daily Calm option, or you can choose a type of medication that focuses completely on your struggles. There are options for stress, anxiety, or you can even choose a type of meditation to break bad habits.
It's a great app for people who don't have a lot of time because there are walking meditations as well, so you can do it while you're going to work or when you go out to buy groceries. It also offers body scans and sleep stories. Plus, Matthew McConaughey will be telling you some of the stories!
10% Happier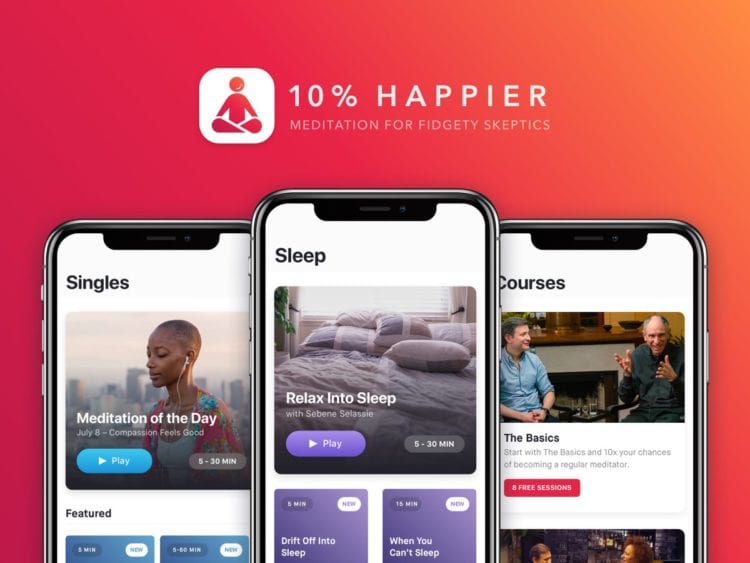 This is an app made for people who don't believe in meditating. It's great for skeptics who don't think they will be able to sit down and just relax their minds.
This application works because you will be directly connected with an expert teacher that will help you go through all the basics of the process. They will answer all of your questions and they reply typically within a day.
10% Happier is made to make you happy. It accepts the chaos and its existence, but the motto is that with some joy, gratitude, and love, you can become happier.
Headspace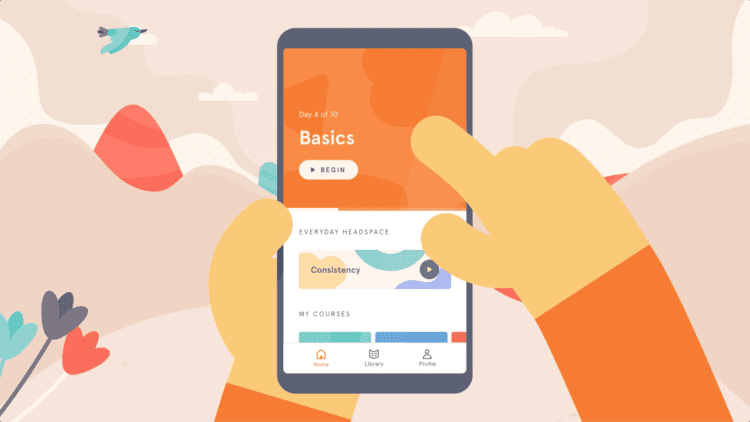 If you ever Googled apps for relaxation, you've probably seen this app. It has so many options that you won't be able to choose only one.
The Headspace application literally offers you hundreds of medications, including the mini ones, SOS medications for emergencies, kid-friendly options, sleep sounds. It even comes with animations that will help you understand the process better.
It's been called a gym membership for your mind. The only thing you need to do is sit down and let your mind relax.
Meditation, Mindfulness & Relaxation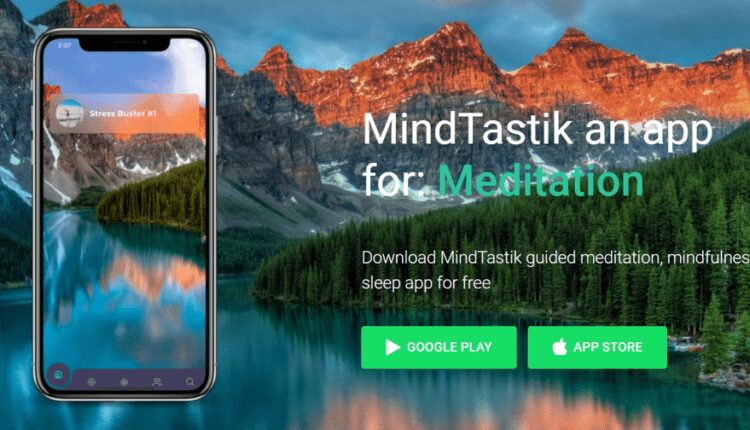 The app is called Mindtastik is made to help you process things and cope with your issues. It will help you learn the basics of meditation and it will help you learn how to practice it every day.
You can choose if you want help during the process or if you want to figure things on your own. For beginners, it is better to choose the guided option.
The sounds and music that are part of the app will help you wake up your conscious mind and during the process free your mind of negative thoughts and patterns. You can target a specific problem or you can just learn how to meditate. The application can help you with anxiety, stress, addiction, substance abuse and it's been used for phobias and personal development.
The prices vary for the application and they are between $10 and $80. You can choose if you want a monthly or a yearly subscription and there's even a free trial version. You can get the app here and see the benefits yourself.
Sattva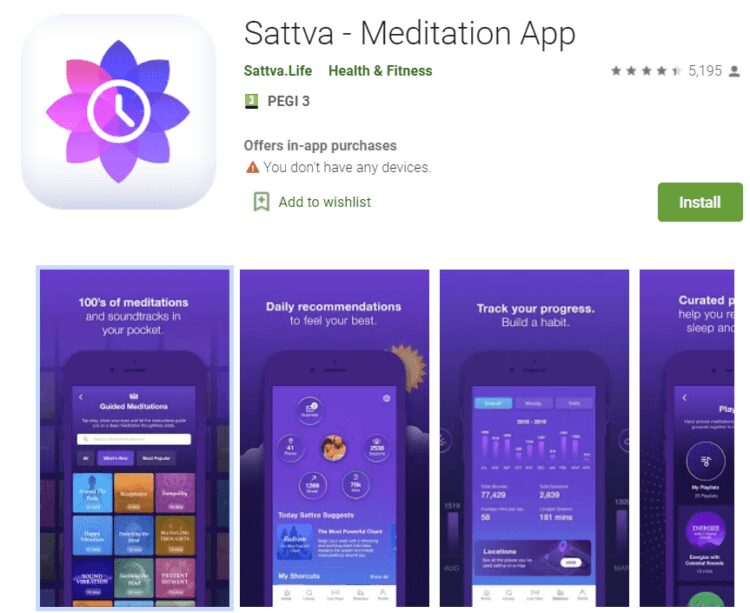 This is a different type of app. It draws the meditations from the ancient Vedic principles. You can choose between different lengths and they are 6 minutes or more. So, even if you don't have enough time, you can spare 6 minutes.
The unique thing about the application is that it also features "sacred sounds, chants, mantras and music by Sanskrit scholars." So, if you are looking to get in touch with the roots of the medication, learn more about the origin and the history, plus start your own practice, this is the app for you.
Ensō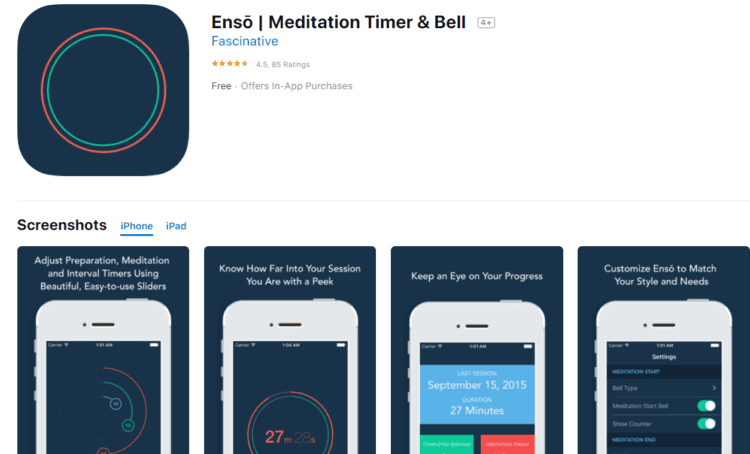 Ensō is different from the other apps because it is not made just for beginners. If you already tried to meditate and you know that this is the right path for you, you probably need something that's more in-depth.
As described, it is made for those who are well-versed in the relaxation process. It features an option where you can set timers to alert you at different intervals and there is a calm and soothing endpoint to the whole practice.
However, if you are a beginner in the whole process, it is better to choose something else that is not this advanced. Choose an app that can guide you through the stages and help you understand or the relaxation techniques.
Have you ever used any of these applications? Do they help you? Most people say that it was hard for them to focus and sit through the first few sessions. Calming your mind may be a challenging task, but you have to give the apps a chance if you want to see the benefits.
Start slowly, because meditation takes time and practice. When I first started it, I felt so bored and wanted to give up. Now, I'm happy I didn't. It doesn't require a lot of time and you can do it everywhere.
No matter how busy your life is, you can find a few minutes throughout your day to relax and cope with the outside world. Take your time and remember that you should be in the first place. Nothing is more important than you, so love yourself as much as you love the people who are closest to you.