There are many painters who shocked the world with their paintings. No matter if you love them, or hate them, there is one thing we must all admit – they are exceptional painters with skills that only a few people have. If you are a fan of the art, then you've probably heard about many controversial and scandalous painters and paintings, and one of them is Balthus.
Count Balthazar Klossowski de Rola is a modern artist who was born in 1908 in France. He is considered both Polish and French artist and he died in 2001. Right now, his arts are on display in The Museum of Modern Art and he is also known for painting surrealism, expressionism, and realism. If you've heard about him, and if you are acquainted with the Balthus artworks, you probably already know that he liked to paint young girls, that were usually undressed, and felines that had a sinister look about them.
In this article, we are going to talk more about the most scandalous paintings that were created by this artist, and we will also give you more information about the artwork itself, and why it is considered so controversial.
Katia Reading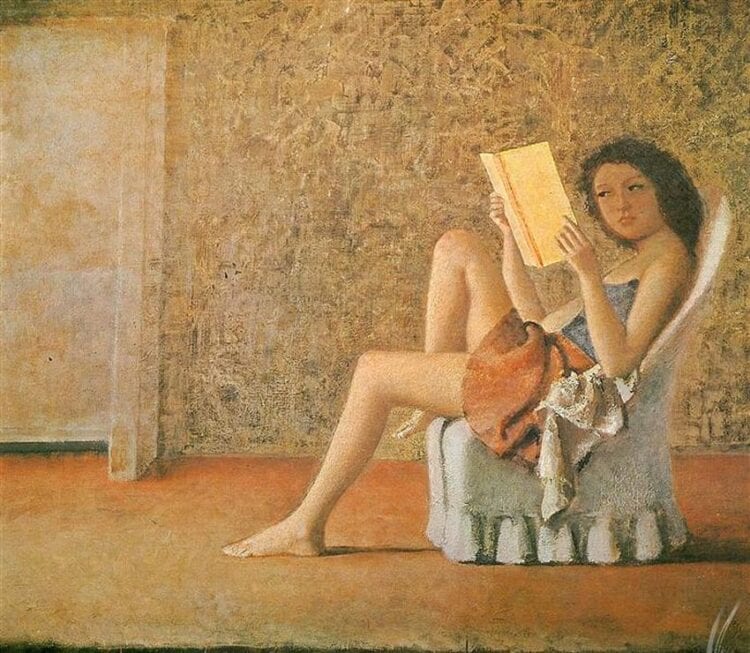 This artwork was created in 1974, and the original name of the piece is Katia Lisant. It is quite a big painting, with the dimensions of 180 x 210 cm and it was created on canvas using tempera.
It is in an expressionistic style and it features the young girl, Katia that is in her study room and she is reading a book. Even though this specific art is not as controversial as other artwork created by the same artist, we can see the little girl in a mini skirt, so many people beg the question if Balthus had any bad intentions when creating this piece.
This painting is in a private collection now, but if you are interested in buying a replica, you can find one in different sizes and made of different materials on the market.
Children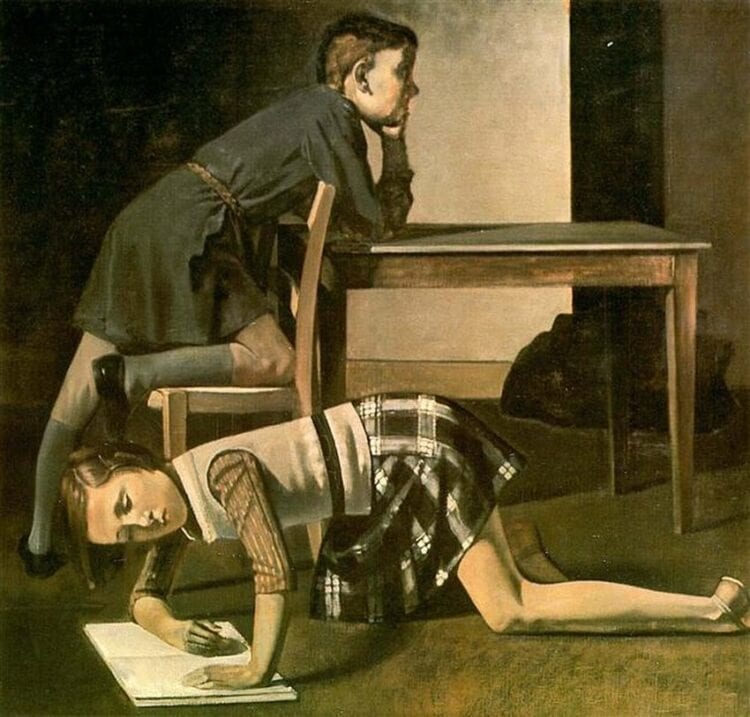 The Children painting is one of the early works of the artist. It was created in 1937 and it is created in the surrealist style. Just like the previous art, it was painted with tempera on canvas, and right now it is located in the Picasso Museum in Paris. So, if you are interested in seeing this piece, you can visit France, and if you want to own a replica, you can easily find different Balthus print on the market.
Even though this art looks innocent at first glance, people are wondering if this artist was actually a pedophile and if there was a sinister intention behind his pictures. Here two children are featured in the classroom, and the whole setting looks peaceful. The reason why it is seen as scandalous is the young girl who is painted on her knees, wearing a short skirt.
Nude At Rest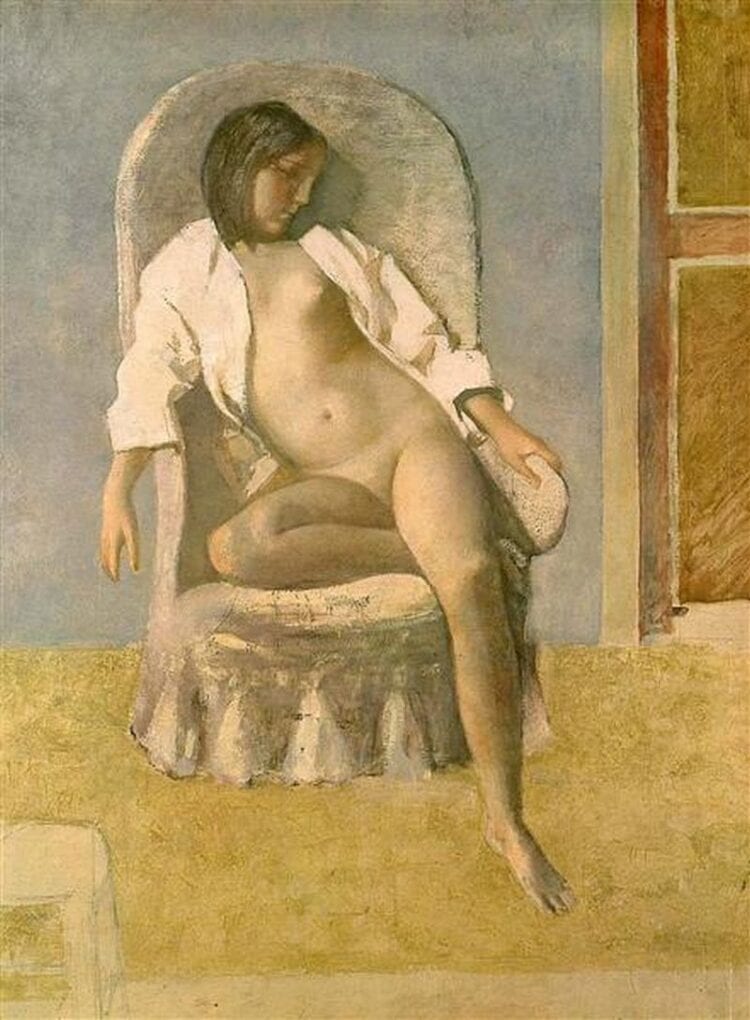 It is said that adolescent girls, usually nude were the favorite thing to paint for Count Balthazar Klossowski de Rola, and Nude at Rest is just that. This oil on canvas painting is part of a private collection now, and it was painted in 1977. Here we have another expressionism painting and it features a nude young girl comfortably sitting in an armchair.
According to lavelart.com, if you want to decorate your home without spending too much money, you can always choose a print or a painting on canvas. So, if you are looking to own a piece of this exceptional artist, you can always find something online.
Girl And Cat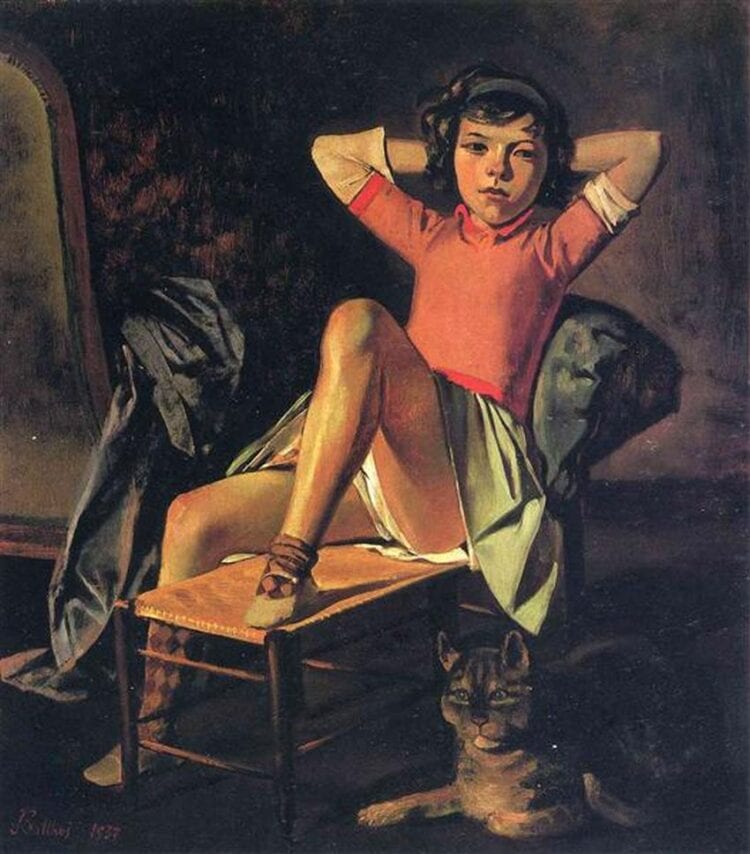 The artist's son, Stanislas once said that his father's paintings represent the ageless body of people and that when we see them, we can get nostalgic or even frustrated, but one thing is for sure, they will not leave us indifferent.
This Balthus art was created in 1937, and it features another adolescent girl comfortably resting on a chair. The reason why it is seen as scandalous is – the artist painted the girl's underwear that can be visibly seen under her skirt. It was painted in the expressionism style and right now it is part of a private collection.
Patience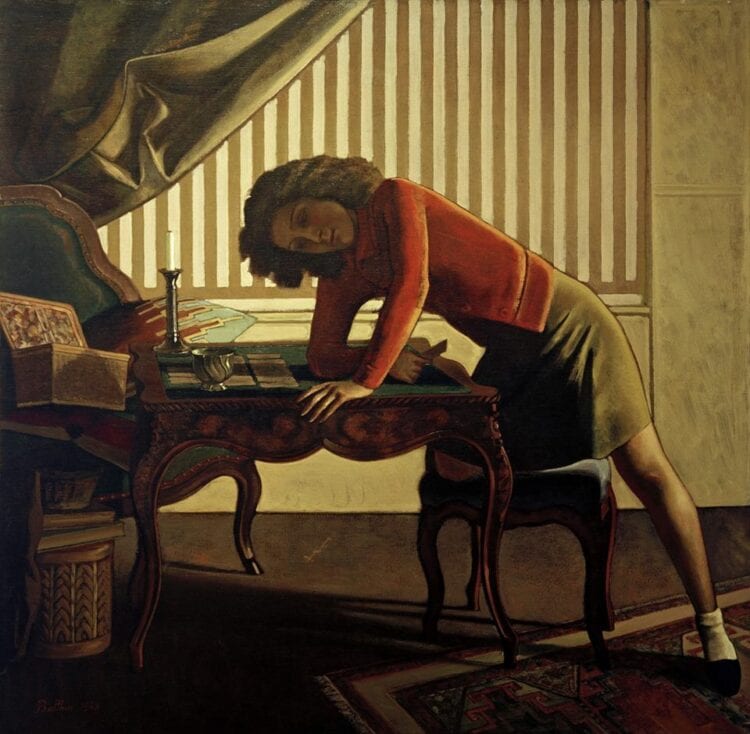 It is said that his artwork is probably one of the best that this painter has created, and many people call this an exceptional piece. It was created in 1955 and right now it is featured in a private collection.
It is not sure if Balthus used his neighbor's daughter as an inspiration for most of his work, or if he was just trying to just capture the perfection of the body that comes with the adolescence. Even though there are many versions of this art, the original one features a girl with long hair, resting above the table. Under the table, we can notice a small cat, that seems to be hunting or playing with her prey.
This is another piece that was created in the expressionism style and the media is oil on canvas. Even though the Balthus' paintings are seen as scandalous, everyone agrees that his style was different, bold, and unique.
What do you think of these pieces? Would you like to be the proud owner of any of them? The artist once said that these pieces should not be read about and that they should be seen, so maybe you should visit one of the museums where these artworks are exhibited so you can see the beauty of them in person.
There are many things that are still a mystery when it comes to the painter, and one thing everyone wonders is why he decided to paint mostly adolescent girls. Thérèse Blanchard is said to be the inspiration for most of the artwork of this famous painter, and it is said that when they were neighbors, this girl was only 12 years old.
The first artwork that he ever created was The Guitar Lesson and it is said to be the most scandalous one. No matter if you agree with his style or not, one thing is for sure – the quality and the imagery of his works are impeccable.