Your bathroom is more than having a place to have a bath. It should be comfortable, especially if you want to let yourself have an exceptional spa experience. Many bathrooms come with no windows at all, but if you are one of those lucky people to have them, you know how beautiful it is when it's filled up with natural light and fresh air all the time. But, one thing you need to take care of is to install proper shutters, especially if you have curious neighbors around you. Also, they can be a very elegant interior solution, and create a cozy environment in the bathroom. The shutters are easy to maintain regularly, and you have control over the light you are letting inside, while you keep all the things in private.
You need to be very careful when choosing the shutters, because the bathroom is always full of moisture, for obvious reasons, and according to www.diamondwindowshutters.co.uk, waterproof shutters are the best option for you. Also, they offer flexible models so you can maximize the light inside, while still taking care of your privacy at the same time. Many people prefer to use plantation shutters as the best stylish choice for any room in the house, including this special place called the bathroom too. They will let you control the light and enhance the functionality of the room.
But, as we said, the bathroom is a pretty steamy and moist place, and wooden shutters are probably not the best option, but you can always go for aluminum or plastic ones, that are waterproof but still nice and stylish.
So, let's see what are the most important things you have to pay attention to when choosing window shutters for the bathroom:
1. Not every type of shutter is suitable for bathrooms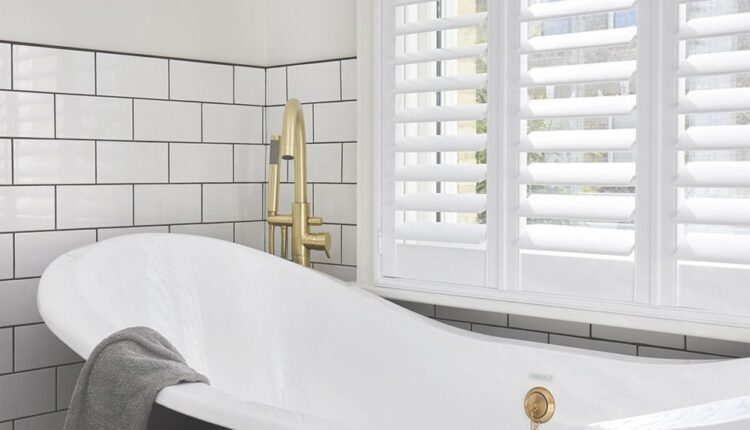 Don't invest in hardwood shutters that can be very expensive, knowing that there is always a risk for scratches and mold. Most of the experienced contractors will advise you to avoid wooden ones. Also, if not possible, choose blinds instead of shutters, because of the materials. The humid is not wood's friend, so we highly recommend using other material that will not deform under the influence of the water and other specific conditions inside the bathroom.
2. You have both exterior and interior option
It's on you to decide which one you prefer. You need to really estimate what's the best option for your home, and go for the option you think will work better, taking in mind how the weather is outside most of the year, but also how close is the window to the shower or the bathtub.
3. The material is important
We know that the wooden ones look the best on the windows, no matter if they are installed inside or outside the house. But we also said that when choosing the right ones for the bathroom, you need to pay more attention to the materials you have as an option. Most of the time, shutters are made of metal, aluminum, wood, vinyl, plastic, and many other combinations of materials. You need to choose it based on how easy is to clean and does it require regular maintenance, so you can be sure your expenses won't grow as time goes by. Once you determine which material works the best for you, you can go for different shapes and colors, in order to fit the new shutters in your home properly.
4. Plantation shutters as the most popular choice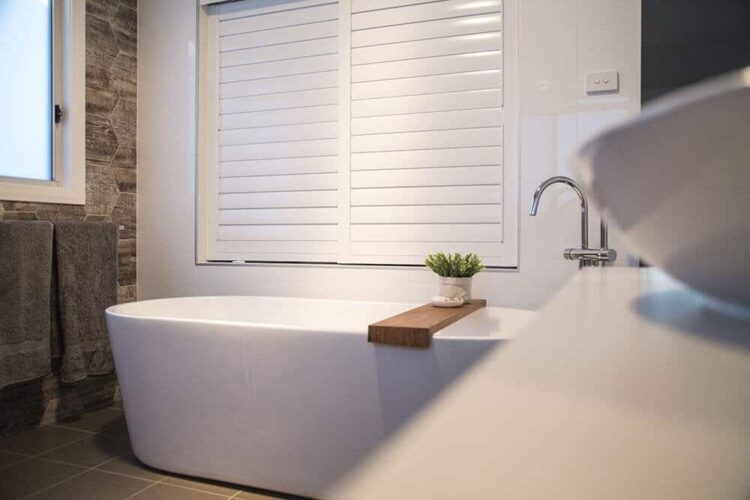 If you are looking for an attractive design that is easy to install and maintain, you probably need to consider this one as one of the best options you may have on the market. They are practical, easy durable, and the designs are great, so you can be sure your bathroom will never look outdated. It's worth investing in plantation shutters, because they are also a very economic option, and they will last for years, without having to replace them every now and then.
5. Ask only for waterproof options
As you have plenty of options on how to open and shut them, and also for personalization and customization, you need to be very careful with the materials and their properties. Choose a frame that can stay tight all the time, no matter how much do you use it. If you have a very humid bathroom, probably you need to avoid complicated furnishing and stick to the most basic options. Sometimes the bathroom windows can be so small, so you won't have to install anything around them. But, if you have big and bright windows, then you can go for waterproof shutters instead of curtains or something like that. We all love those rustic wooden installations, but the bathroom is not the right place for them.
6. You have plenty of benefits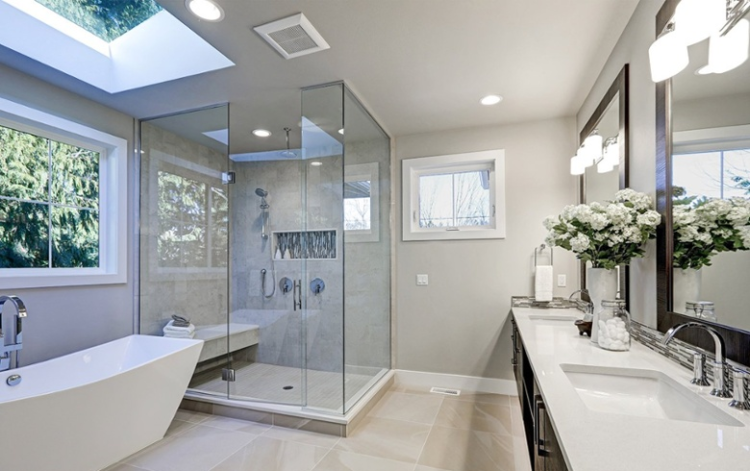 You can keep the windows open and the shutters shut during the hot summer days. That's a great way to prevent the dust and dirt to get into your home, but still letting enough fresh air and sunlight inside. Ventilation is crucial in bathrooms, and good shutters can help you maintain the right temperature all the time because they can let air inside, but insulate the whole window from thermal conditions. Privacy is one of the benefits we already mentioned, especially if you live in a neighborhood full of buildings. And the best thing – once you buy them, you will have them forever. The only exception is physical damage caused by weather or other factors, or your wish for something new.
Now when you know all these things, we are sure you will be able to make the right choice and invest your money in something that is worth having. Bathroom shutters are great, and we already mentioned plenty of reasons why are they practical too. So, don't even think twice – visit the closest store, ask for a quote for your favorite choice, and after a couple of days, you will have them. Just find a trustworthy service, and all the things after that will be just fine.