You can transform a modest, dreary bathroom into a sanctuary with a floor-level shower. These showers also offer accessibility, ease of cleaning, and a wide range of design options. While the advantages outnumber the disadvantages, there are a few things to consider when selecting a floor-level shower for your home. Take a look at the advantages and disadvantages so you know what to consider when creating a floor-level shower for your bathroom oasis.
Pros Of Floor-Level Showers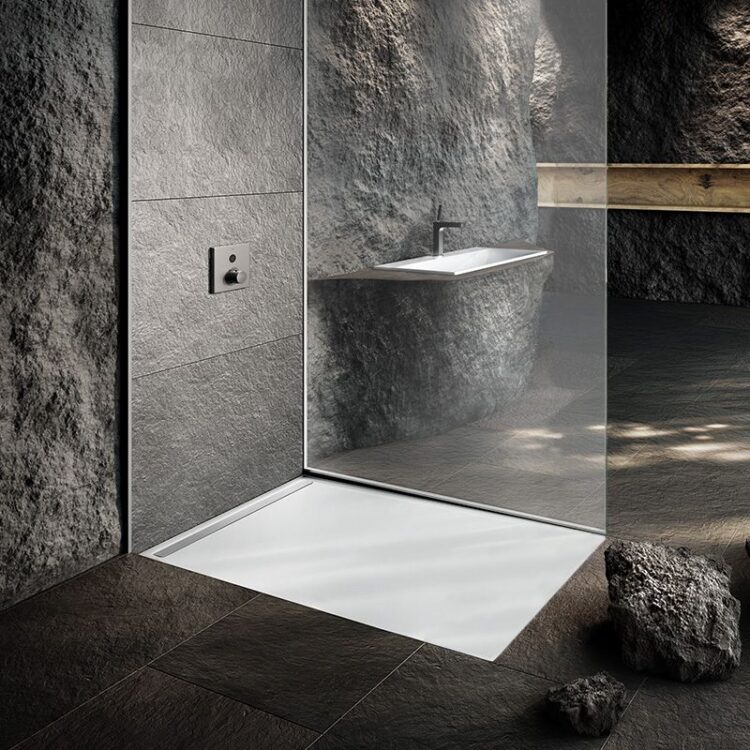 1. Entry And Exit Are Simple
For aging parents, stepping over the side of a bathtub can be perilous since it puts them at risk of falling. The floor is slick, and the steps can be pretty high, creating a dangerous situation for individuals with mobility impairments. A floor-level shower allows for easy access and egress because there is no ledge or edge to walk over.
A floor-level shower will enable you to step in and out easily. Floor-level showers are perfect for caring for an older parent because wheelchairs and mobility aids can assist your loved one in reaching the bathroom and cleaning themselves conveniently. Learn more about floor-level showers and their benefits to make a decision for yourself.
2. Feelings of Openness
Because of the openness they provide, floor-level showers are perfect for smaller rooms. Bathtubs can take up a lot of space in the bathroom, up to half of the floor in extreme circumstances. In the bathroom, a glass tile shower can help to open up the space and make it feel bigger. It is a pleasant sensation to have in the morning or when you need to unwind after a hard day.
3. Reduced Cleaning Time
Floor-level showers are easier to maintain since ceramic tile is naturally antibacterial and mold resistant. When it comes to keeping mold and germs at bay, make sure the grout is correctly sealed. Because of the high moisture environment, soap scum can form on the shower's surface, although this can be readily removed using a shower cleaner. In addition, as compared to a shower/tub combo, a floor-level shower has fewer nooks and crannies. Mold and mildew will have less room to hide as a result.
4. No More Bothersome Curtains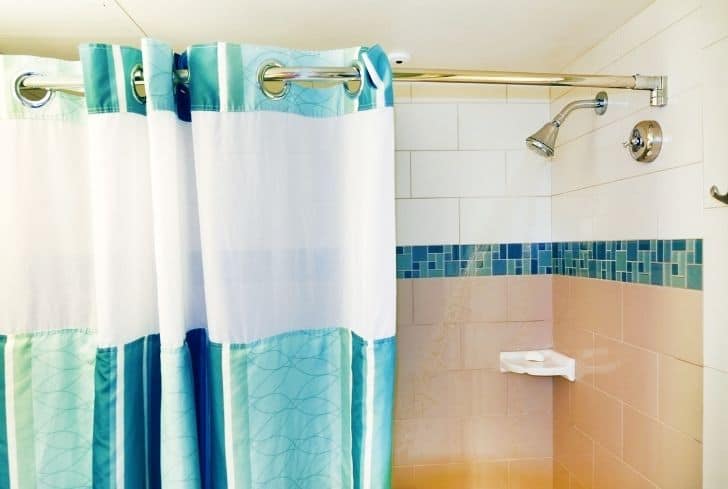 How frequently do you have to replace your shower curtain due to the spread of mold and mildew? How often do you feel irritated when the shower curtain sticks to your legs when you're taking a shower? With a floor-level shower, there will be no need for a shower curtain or liners. It not only keeps your shower cleaner but also minimizes mold and mildew growth. Installing a floor-level shower also means you won't have to waste half of your shower time battling with the shower curtain while trying to bathe.
5. Adds To The Aesthetics
When it comes to designing your shower, you have a lot of possibilities. Traditional showers, especially those with transparent glass walls or doors, can conceal decorative wall panels, bespoke tile designs, detailed masonry, and more.
A shower is the most necessary feature in your bathroom, and a floor-level shower can help you highlight fascinating design aspects in your lavatory. As a result, it can serve as a focal point for your bathroom decor while also adding to the overall look.
6. They Make The Most Of The Available Space
If you have the space, large showers are fantastic. However, if there is less space in your bathroom, floor-level showers have the advantage of being able to fit into tight areas. Make sure you have enough room to stand and move around comfortably.
However, you don't have to give up a lot of space to incorporate a floor-level shower into your bathroom design. It is ideal for someone who desires the convenience of a shower combined with the luxury of a free-standing soaking tub, as well as a few additional bathroom amenities.
Cons Of Floor-Level Showers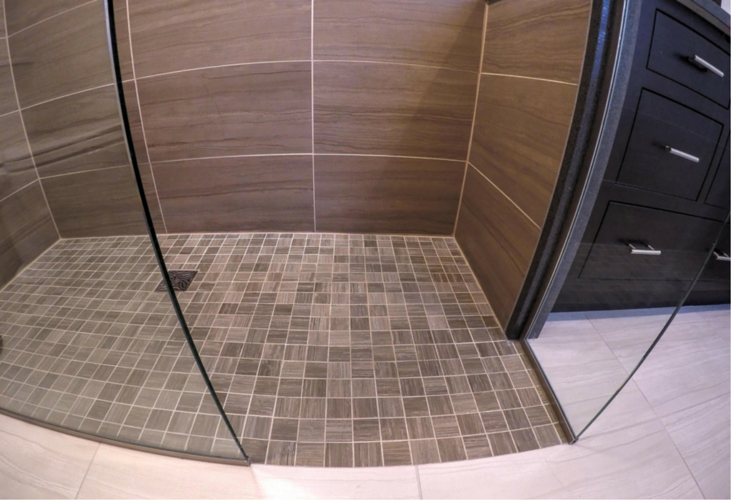 7. Lack of Privacy
Floor-level showers don't offer much privacy because they're generally open and don't have doors. This open concept shower can be a plus or a disadvantage depending on the person.
Although these showers are usually open, you can hang a curtain to provide some privacy. You can even add a door for an intimate experience. Another alternative is to place the shower's entry away from the door or typical sections of the bathroom so that the shower's walls provide some privacy.
8. Floor-level Showers Can Leak Water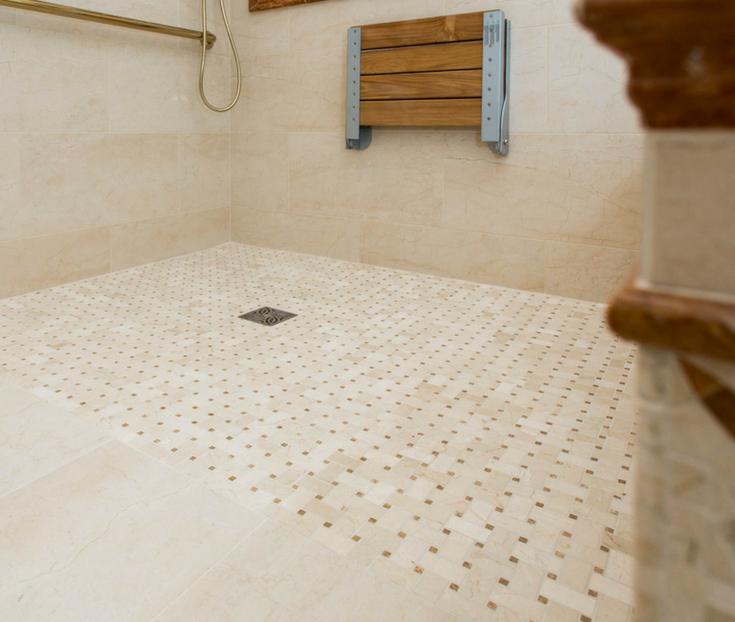 There is no curb to keep water in or a door to keep it from splashing out with a floor-level shower. As a result, water can escape if a drain becomes clogged, the design isn't quite correct, or you're utilizing the wrong items.
Working with an expert custom home builder helps ensure that your floor-level shower is appropriately designed and constructed. They may also assist you in selecting showerheads and other fixtures that complement floor-level shower designs and keep water contained.
9. They Don't Have A Strong Tendency To Retain Heat
Heat will escape because these showers do not have doors which can make it feel colder, especially if the bathroom is open. Heated flooring is one method to warm up a cold bathroom, and they're a great complement to a floor-level shower.
Conclusion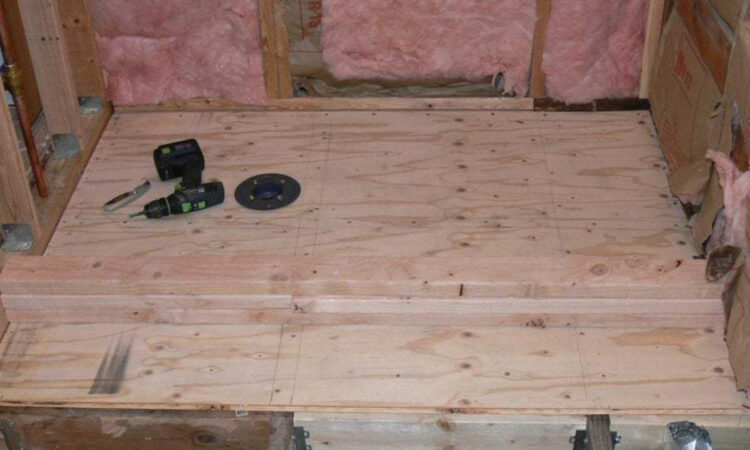 As you can see, there are several advantages and disadvantages to building a floor-level shower. Each of the showering options available to you has its own distinct characteristics. Some solutions are more suited to specific places than others, but ultimately, your decision will come down to personal preference, needs, and the available cash. Overall, a floor-level shower is a decent choice for new installations or upgrades.
It combines the benefits of a steam room and a regular enclosed shower. A floor-level shower provides the same impression of spaciousness and minimalism as a steam room, but at a fraction of the cost. A floor-level shower also offers a ground-level entry and a more manageable area to clean and maintain, making it an excellent option for the future and a highly modern feature for your bathroom.